As we all well know, the Bradenton area dodged a bullet named Hurricane Ian.  The hours leading up to the storm were some of the most stressful that I've experienced in quite some time, and as we learned…with good reason. We hope that all of you sustained minimal damage to your property and that your loved ones are all safe.
As restaurateurs, we consider it our duty to serve as "second responders," and we take this very seriously. As soon as it's safe to do so, our teams work hard to provide you with a safe, comfortable, happy place to dine and re-establish a sense of normalcy in your life.
Personally, I feel so fortunate that our restaurants were all able to re-open relatively quickly, and especially, that we had the ability to help with the recovery efforts in the following days. We spent an incredible week serving new friends and neighbors, preparing and delivering meals from the AMOBs and our sister restaurant Cafe L'Europe with the help of an awesome crew of staff and volunteers.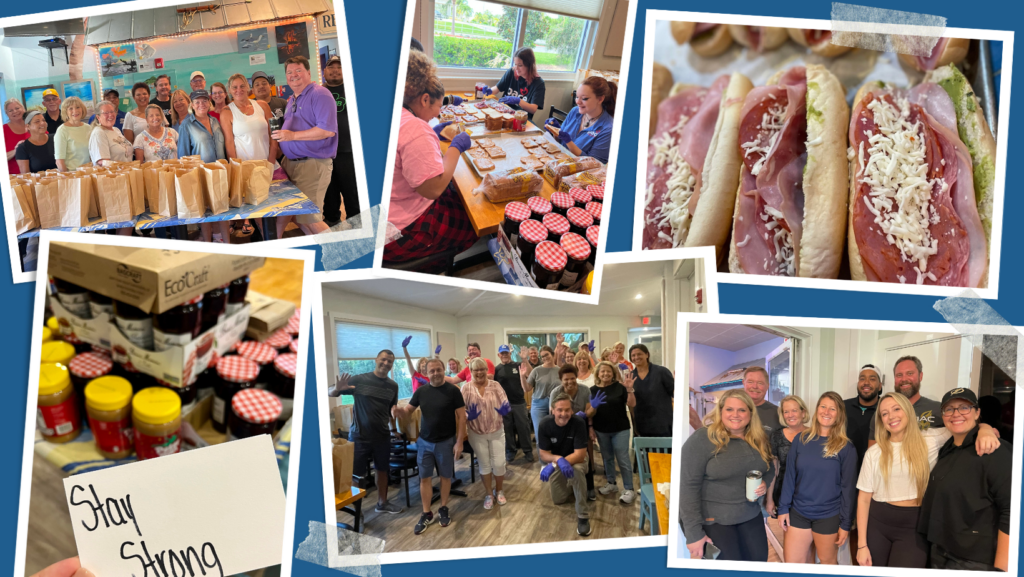 In just seven days, we served fresh meals to about 9,300 people. About half of these were distributed through the incredible team at World Central Kitchen (WCK) serving the Englewood community, but we also set up our own distribution site in North Port. From this site, we gave out everything from Chicken & Sausage Gumbo served over white rice, Italian Sandwiches from our St. Armands Circle sister restaurant Cafe L'Europe, hot dogs, PB&J's…plus cases of bottled water, dog and cat food…even books and toys for children who lost theirs.
At least 250 PB&J sandwich packs, including chips and fruit, were sent to DeSoto County to be distributed by The Patterson Foundation, our partners in the Suncoast Campaign for Grade-Level Reading, and their Pop Up Neighbor through Laundry initiative and 1,000 Italian sub sandwiches to our friends in Arcadia that were distributed through the great people at Catholic Charities there.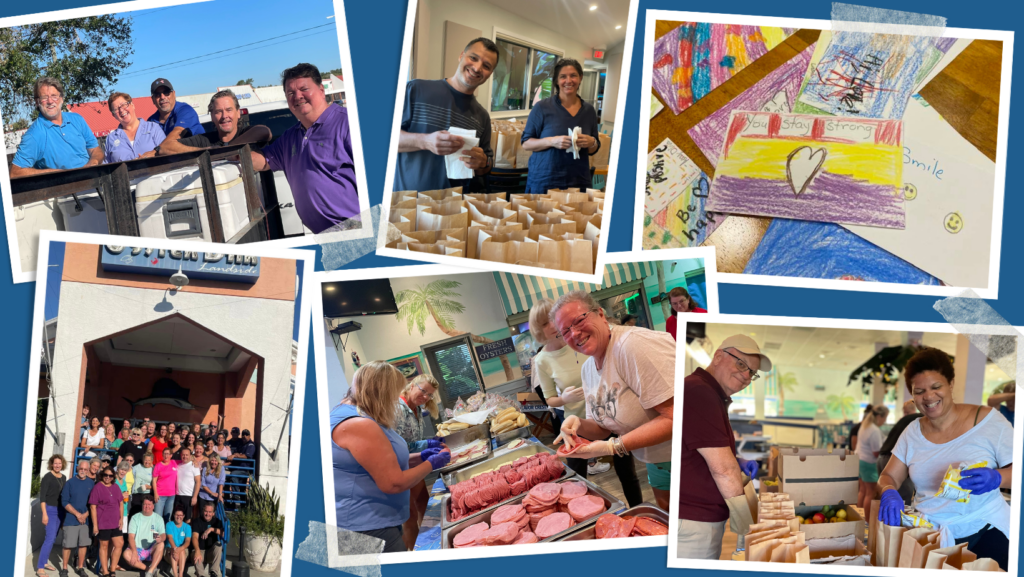 We're grateful for the team at US Foods who have bent over backwards to help us make this possible…especially Dan Lowe and Pat Monile. Also our friend Gus Sokos from Demetrios' Pizza House for providing equipment to make transportation easier…it only took a phone call for Flowers Foods to deliver thousands of hot dog buns…Pace Center for Girls Manatee came through to help with sandwich prep and even wrote hundreds of encouraging notes to put a smile on someone's face…our friends at O'Bricks Irish Pub & Martini Bar and Duncan Real Estate sent volunteers…Erik Marshall and the Hernando De Soto Historical Society, joined us at North Port nearly every day to help this site run smoothly…Ballard Elementary School students handmade cards for us to include with the meals…the Family Table Restaurant owners were so accommodating and appreciative when we requested to set up this pop-up food site…plus the North Port EDC and North Port Area Chamber of Commerce helped us get the word out about the free food AND helped recruit volunteers to help distribute that food…awesome partners and we can't wait to partner many more times in the future.
I've said a million times that it absolutely takes a village to make things happen for the good of the entire group. We could not have done this without the support and mobilization of countless others.
Sincerely,
John Horne, CEO
Oysters Rock Hospitality