After weeks of John teasing our newest collaboration with Motorworks Brewing… it's finally time for our official debut!
INTRODUCING… Hala 1493, an Anna Maria Oyster Bar original brewed in collaboration by Motorworks Brewing to honor the hospitality industry.
When we decided to do a collaboration with Motorworks Brewing once again, this time, we wanted it to be extra special for our 25th anniversary on September 15th. We chose the flavor pineapple because the symbol for our beloved hospitality industry is a pineapple. Florida's hospitality industry has been pulled in a million different directions over the past 5+ months… it's time to shine some light of positivity and honor our colleagues and comrades while celebrating the "aloha" spirit that runs through our blood.
The name? We came up with the name Hala 1493 for two different reasons. Hala Kahiki means pineapple in Hawaiian. The breakdown of Hala means "fruit" and Kahiki means "foreign" hence pineapples became "foreign halas" in Hawaii. 1493 also came from the history of the pineapple. Christopher Columbus discovered the pineapple and started giving it as a gift of hospitality in 1493… and BOOM- there ya have it, Hala 1493. Pretty neat, huh?
But we're not done with our tropical paradise yet… yes, more pineapple and yes, you're gonna love it.
We're also rolling out a NEW limited-time only pineapple menu! From Hala 1493, pineapple-flavored mojitos, dishes with hints of pineapple, to the dishes being presented in fresh half pineapples, there's something on this menu for every pineapple lover.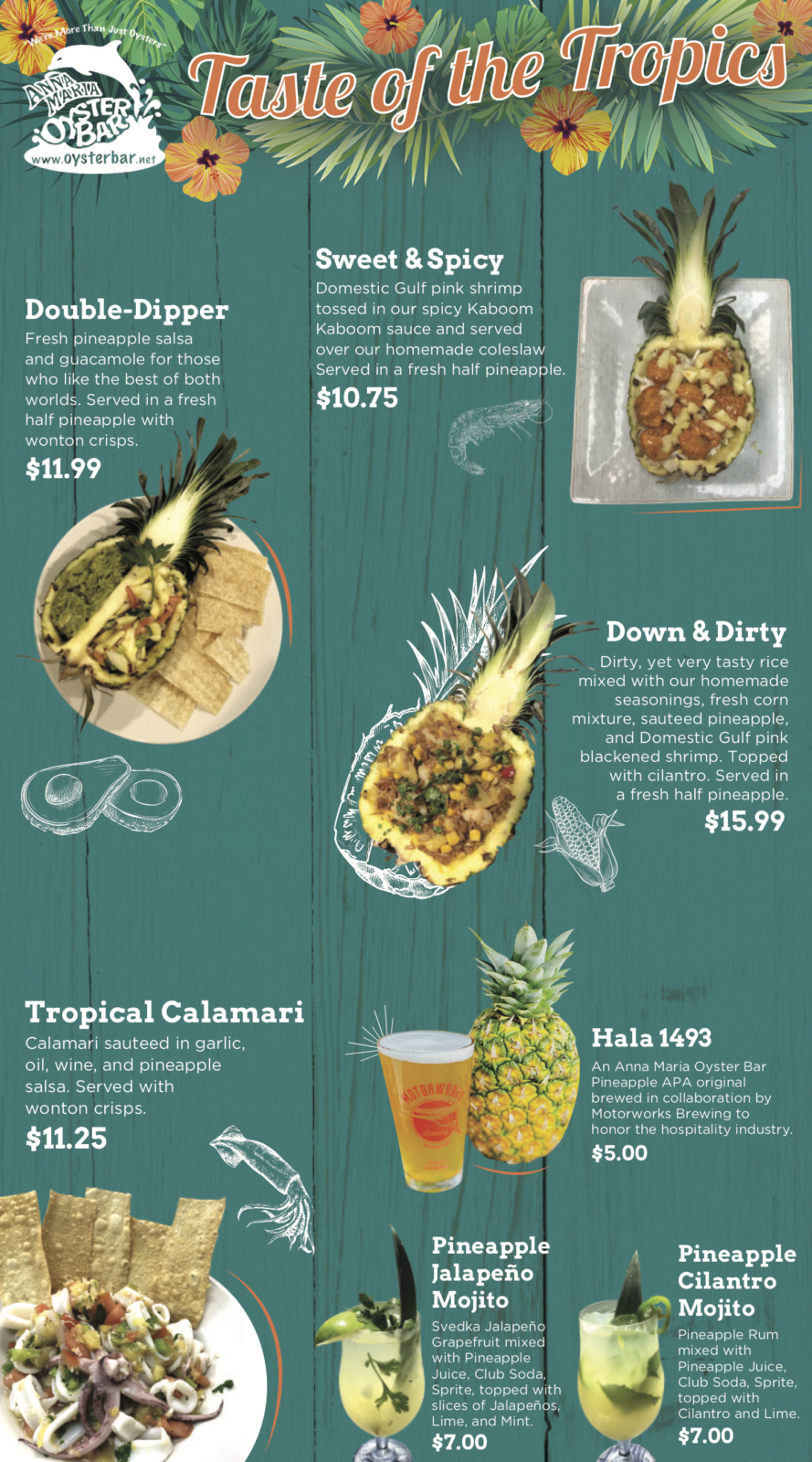 Not only are these dishes DELICIOUS (sorry, we got to try them first) but they are beautifully presented! If you try one (or all 😉) of the menu items, snap a picture and tag us- @annamariaoysterbar!