Breakfast on the Pier
---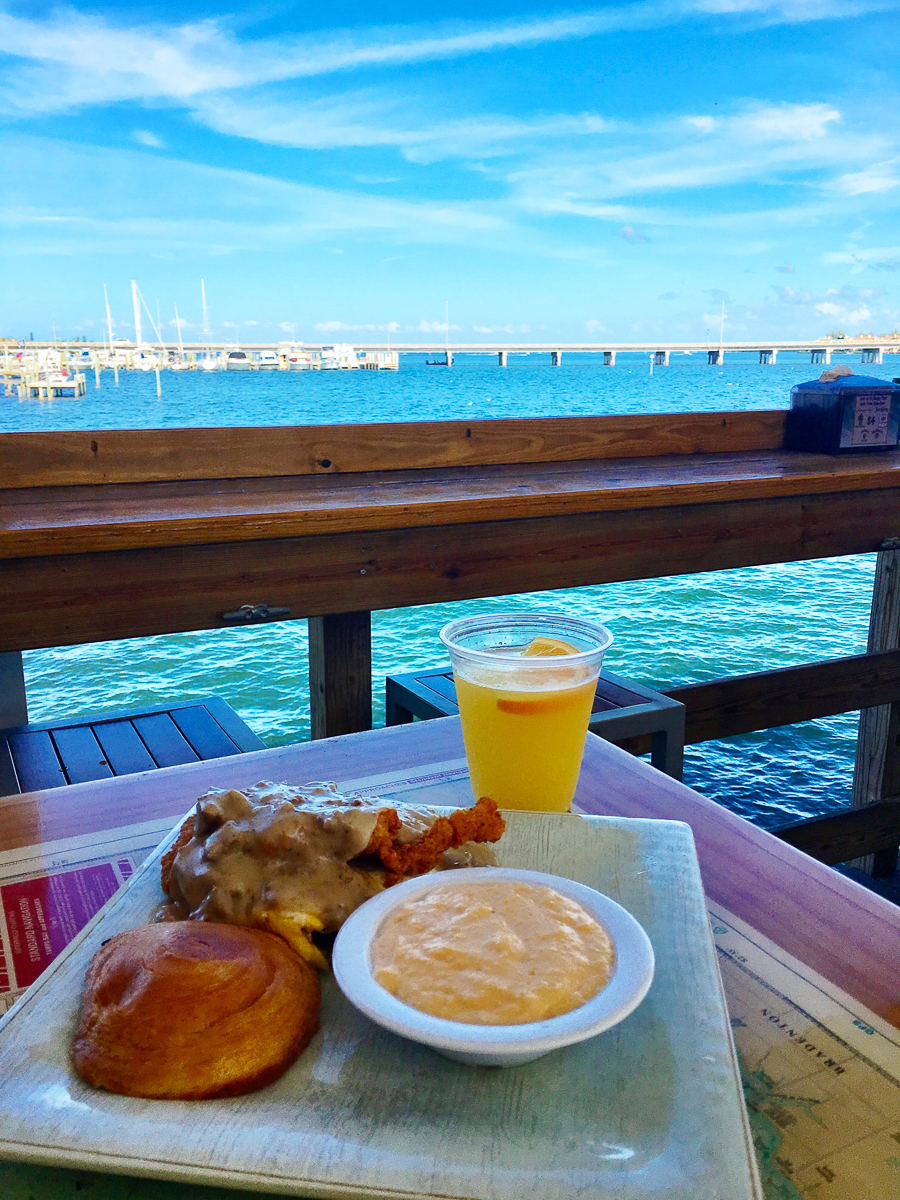 UPDATE – as of 6/3/19 the Pier is no longer serving breakfast. Our new hours are Sunday to Thursday 11 am-10 pm and Friday to Saturday 11 am to 11 pm.
Never work before breakfast…and if you have to work before breakfast…eat breakfast first! Our delicious breakfast at the Pier is served daily from 8-11am.
We have LOTS of yummy food including: traditional Omelettes,, Biscuits & Gravy, Breakfast Burritos, Eggs served YOUR way, and our AMOB Favorite – the Hangover Sandwich made up of pepper fried chicken, a fried egg, cheese and topped with sausage gravy! It's served with a side of your choice and it's the only item that is also on the Weekend Brunch Menu. To complement your breakfast entree, we offer finger-licking sides like Cheese Grits, Bacon, Sausage, Breakfast Ham, Hash Brown Casserole and more!
Wait, we forgot to mention one item… PANCAKES! Our fluffy, mouth-watering pancakes are served as a stack of either 1, 2 or 3 cakes, along with a side. If you love home-style pancakes, you're gonna LOVE this special offer celebrating National Pancake Day!
On Wednesday, February 27th, the Pier team is prepared to stuff you with so many pancakes, you might turn into one. From 8-11am come to the Pier for all-you-can-eat pancakes for only $5!!!  You heard that right…only five dollars!
Did you know: The world's largest pancake measured 49 feet in diameter and weighed 6,614 lbs? Ours are not *quite* that big…but they are pretty darn tasty!
Now that your stomachs are growling, let's talk about something that's probably going to make you even more hungry (Sorry! 😉). 1 word. 6 letters. 2 days. BRUNCH!
Our Weekend Brunch on the Pier is available every Saturday and Sunday from 11am-2pm.  And because we firmly believe in the life motto, "You can't drink all day if you don't start in the morning," we invite you to build your own Bloody Mary, or try a fabulous"Brunch Bucket" (5 Ruffino Prosecco splits with a selection of fresh juices, including from local Mixon Fruit Farms) – only $22.  Both cocktail options are available all day, every day, pairing perfectly with our Breakfast and Weekend Brunch dining menu..
The most important meal of the day…served the AMOB way!