A Celebration of Ann Senn Horne
---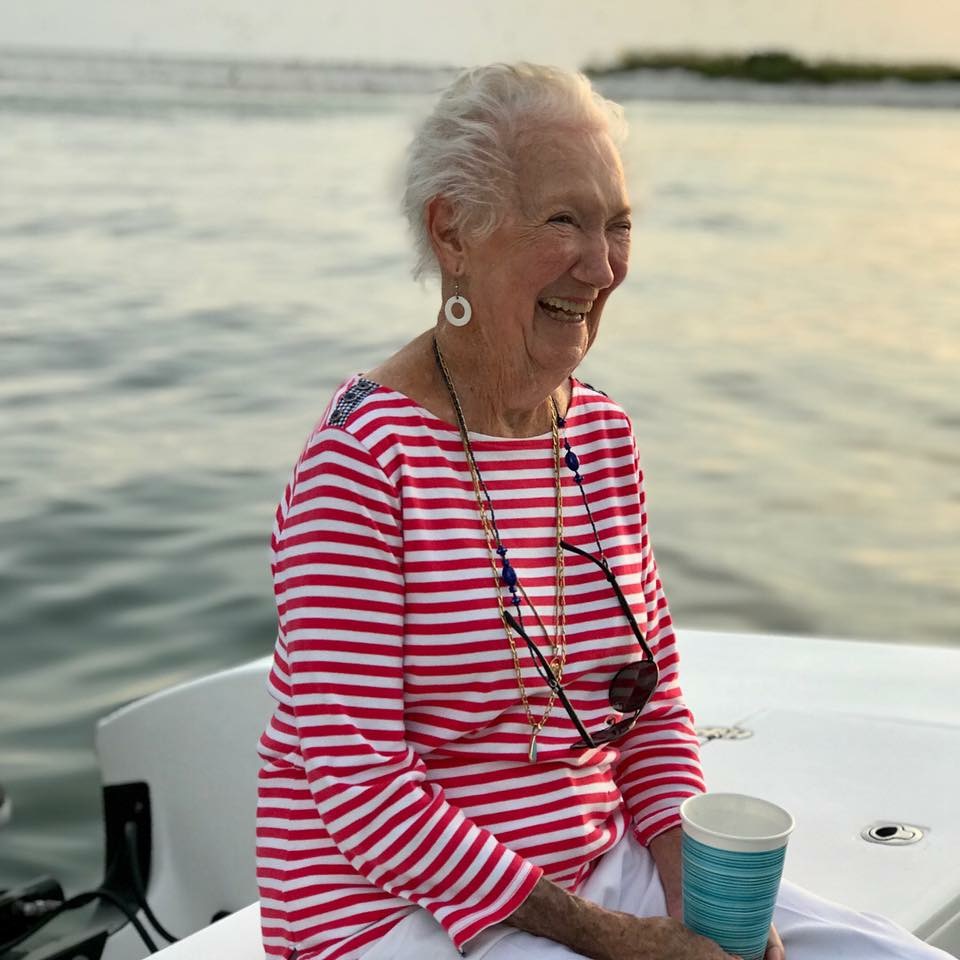 Ann Senn Horne, 86, of Anna Maria Island, passed away November 10, 2018, on her beloved Anna Maria Island surrounded by love, laughter and her devoted family.
Born in Bartow, Florida, December 14, 1931, to Thelma Keller and John (Jake) Washington Senn, she graduated from Summerlin Institute in 1950 and attended Newberry (SC) College.
She joined Lynn D. Horne in marriage in 1957, the two built homes in Bartow, FL; Woodfin Mountain, NC; Anna Maria Island, FL… and a wonderful life together.  Dynamite definitely comes in small packages. She loved her dogs, being surrounded by laughter and all manner of family, but she especially loved her Boys.
She retired from Ann S. Horne Reporting Service in Bartow, FL  in 1997 and moved full time to "her" island of Anna Maria where she enjoyed her sunsets and cocktails the best. Her love of Anna Maria Island began in the late '30s and is the reason for the Anna Maria Oyster Bars. She was the dearly loved Matriarch of the Anna Maria Oyster Bars and was the inspiration behind the National Movement now known as Put Your Mother to Work Day…known to others as Mother's Day, where she would spend each holiday handing out carnations to Mothers dining at our Landside location.
She is dearly loved and will be missed by all who had the pleasure of knowing her. She was an example to many. She and Lynn taught high school Seniors Sunday School at First Baptist Church in Bartow for 25 years and cherished the relationships those years of service provided them. When she retired to Anna Maria Island, she had time to enjoy playing golf, Bunco, volunteering for the Tour of Homes for the Island Community Center and a wide circle of wonderful friendships.
She is survived by her husband of 61 years, Lynn D Horne, Sr.; her beloved sons: Lynn D Horne, Jr (Sandy), and John Curtis Horne (Amanda), her four nieces: Debby (Bill), Kathy (Bubba), Stephany (David) & Julie (Ed); her grandchildren Nic (Stephanie), Jake Ann & Trey; and great-grandchildren Audrianna Ann and Trenton Horne. Ann was a surrogate mom to so many of her children's friends who benefitted from her free spirit and wise advice, which was usually administered with vodka!
A Celebration of Life will be held at a future date to raise a glass to a life well lived.
As a friend put it, a real lady knows when to leave a party, and Ann was the epitome of a real lady.
Ann knew the value of reading in young lives, in lieu of flowers, memorial donations may be made to our Grade Level Reading Program, Dive Into Reading in care of Manatee Community Foundation, 2820 Manatee Ave W, Bradenton 34205