Dive Into Reading Update –
We're thrilled to announce the success of the students from our Dive Into Reading program. Data from the School District of Manatee County showed that for the students completing the Suncoast Summer Book Challenge, there was an increase in reading proficiency. The students who participated in the Anna Maria Oyster Bar Summer Reading Program showed an average gain of .8 months of reading proficiency. National statistics tell us that the average low-income child loses between 2.5 – 3 months of reading proficiency each summer. You can read more about it in the full article, here.
Interested in making an impact on a child's education for our 2018 Summer Program? Fill out the form below!
---
We were so proud and humbled to be recognized by the Manatee Chamber of Commerce & the School District of Manatee County for our "Dive into Reading" Summer Reading Program at the Chamber's 27th Business & Education Partnership Awards breakfast.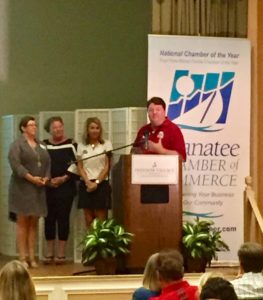 Anna Maria Oyster Bar received the 2017 Barry Jones Business Partner Empowerment Award for this wonderful program, linked with the Suncoast Campaign for Grade-Level Reading, and only possible with the support of a host of community partners and volunteer mentors. Our company supports education at every level in our community, and we congratulate all of the nominees and winners at this great annual event!  We ALL win when it comes to helping our children become the best they can be.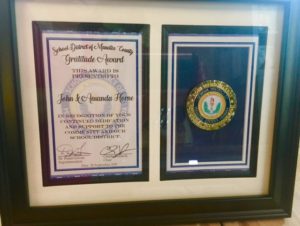 We were also recognized with a special Gratitude Awards from the School District of Manatee County at a School Board Meeting on Tuesday, September 26, 2017.  On behalf of the entire AMOB family, we couldn't be more appreciative of the support.  We certainly don't do what we do for awards or accolades… but it's always nice to feel appreciated! 
Once again, the BIGGEST thank you goes out to our Community Partners and Volunteer Mentors, without whom none of this would be possible.
View photo gallery here: