From the Desk of John Horne
I have some good and sad news…
You all know Everette Roane in our office. Everette has been with Anna Maria Oyster Bar since 2004. We just celebrated him as he began his 18th year with us at the OBars! Everette came in to talk to me a few weeks ago and said, "John, you remember when we had that conversation a few years ago about what the required retirement age was at AMOB, and neither of us had an answer? Well, I just determined that the retirement age is 82."

Everette celebrated his 82nd birthday with us right around the time he also celebrated his 55th anniversary of a major battle in Vietnam when he was Captain of a Marine platoon and led his men (most of them) through it safely. Here's an excerpt from a book called "Marines in Viet Nam," featuring Everette's incredible story.
On 16 April, an old enemy, the R-20 "Doc Lap" Battalion, attacked one of the companies from Lieutenant Colonel Donahue's 2nd Battalion, 9th Marines in position north of the abandoned 39th Ranger outpost at Phung Thu. Company H, commanded by Captain Everette S. Roane, had established defensive positions north of Route 4, and put a squad ambush south of the road. Suddenly, at 0400, the enemy opened up with recoilless rifle and mortar fire. Simultaneously, the enemy launched two company-size assaults, one from the southeast and the other from the southwest. The attack from the southwest, about 100 men, ran into a Marine ambush and stalled. According to the Marine squad leader, his men "shot 12-15 VC for sure-most likely more." At dawn the following morning, the squad found two enemy bodies in front of its position.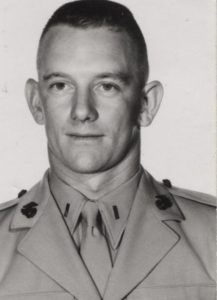 The approximately 150-man force attacking from the southeast reached the north side of Route 4, but was unable to penetrate the Marine company's perimeter. As soon as the attackers crossed the road:
*The VC were like ducks in a shooting gallery. Many VC were shot as they crossed the road and went down into the paddy in front of the 2nd Platoon. At one point, 22 VC were shot as they attempted to remove bodies. During the lulls in illumination, as bodies would be removed and more VC would cross the road, there would be more bodies.
Marine aerial observers arrived overhead and as Marine artillery responded, the enemy's supporting mortars and recoilless rifles fell silent. The VC ground assault dissipated, and the attacking force broke up into small groups. Enemy probes continued along the Marine company perimeter, but, "this most likely was to cover the collection of VC casualties and the withdrawal of the main force."
At first light, the Marines counted 12 enemy bodies, but estimated killing another 63. Company H had not gone unscathed, suffering seven dead and 37 wounded, largely as a result of the enemy's recoilless rifle and mortar attack.
Just like his tenure here with us at the OBars, his retirement notice is going on a little longer than he planned as well…his two week notice expired 3 weeks ago! We'll get around to letting him sail off into retirement soon…neither Ev or I is in any hurry to part ways. We're gonna miss him terribly…he is irreplaceable around here. The man is awesome…Semper Fi, Ev! You've earned some time off!