Surviving Summer in Florida Tip #497: AMOB Margarita, Rinse, Repeat.
Summer days in Florida are best enjoyed on or near the water. Luckily, even if you're not sailing on a boat or lounging on a beach, a visit to the Anna Maria Oyster Bar nearest you can seem like a tropical getaway. Escape reality with a fruity umbrella drink and a seafood feast!
By now, you've probably heard that in 2017, we're celebrating Anna Maria Oyster Bar's TWENTIETH YEAR in business in the Manatee-Sarasota area with the 12 Cheers for 20 Years campaign. "12 Cheers" is as much a "cheers to US," as it is a "cheers to YOU!" It's due to our amazing staff and wonderful guests like you that we have reached this milestone.
So each month this year we've selected a different nonprofit for which we'll raise funds in a variety of different ways, but mostly through the sale of our Birthday Drinks. A portion of proceeds from our Birthday Cake Cocktail and Dos Equis drafts are donated to each cause all month long – and 100% on June 20th.
In July, we are supporting Manasota Operation Troop Support, which sends care packages to Manatee County locals who are currently deployed overseas.
Our Summer Reading Program wrapped up this week. Students, mentors, teachers, and even our staff enjoyed a truly remarkable experience. Click here to learn more about the program, and below you'll find some photos from the last few weeks. Next week, we'll share initial results from Dive into Reading… but a quick spoiler: our 76 kiddos read a whopping…….
.
.
.
.
.
.
.
.
.
1,862 BOOKS!
in total since the program began on June 5. How amazing is that?!!?!? 
Many folks came together to make this program happen… thank you, Thank You, THANK YOU!!! Stay tuned next week to learn how you can help us continue to grow Dive into Reading.
Keep reading for information about upcoming events & promotions from Anna Maria Oyster Bar…. we hope to see you soon in one of our four great restaurants.
We Bleed AMOB!
Four times each year, we invite local blood banks to host drives at our Oyster Bars. These organizations are *always* in need of donations, especially during the summer months.
On Saturday, July 1, from 11am-7pm at all four locations*, we'll trade you FREE LUNCH in exchange for your blood donation! The Suncoast Blood Bank will give you a spiffy t-shirt, too. THNX for helping save lives!
*Please note that the Pier's Blood Drive will actually be held at City Hall, 10005 Gulf Drive, Bradenton Beach, FL.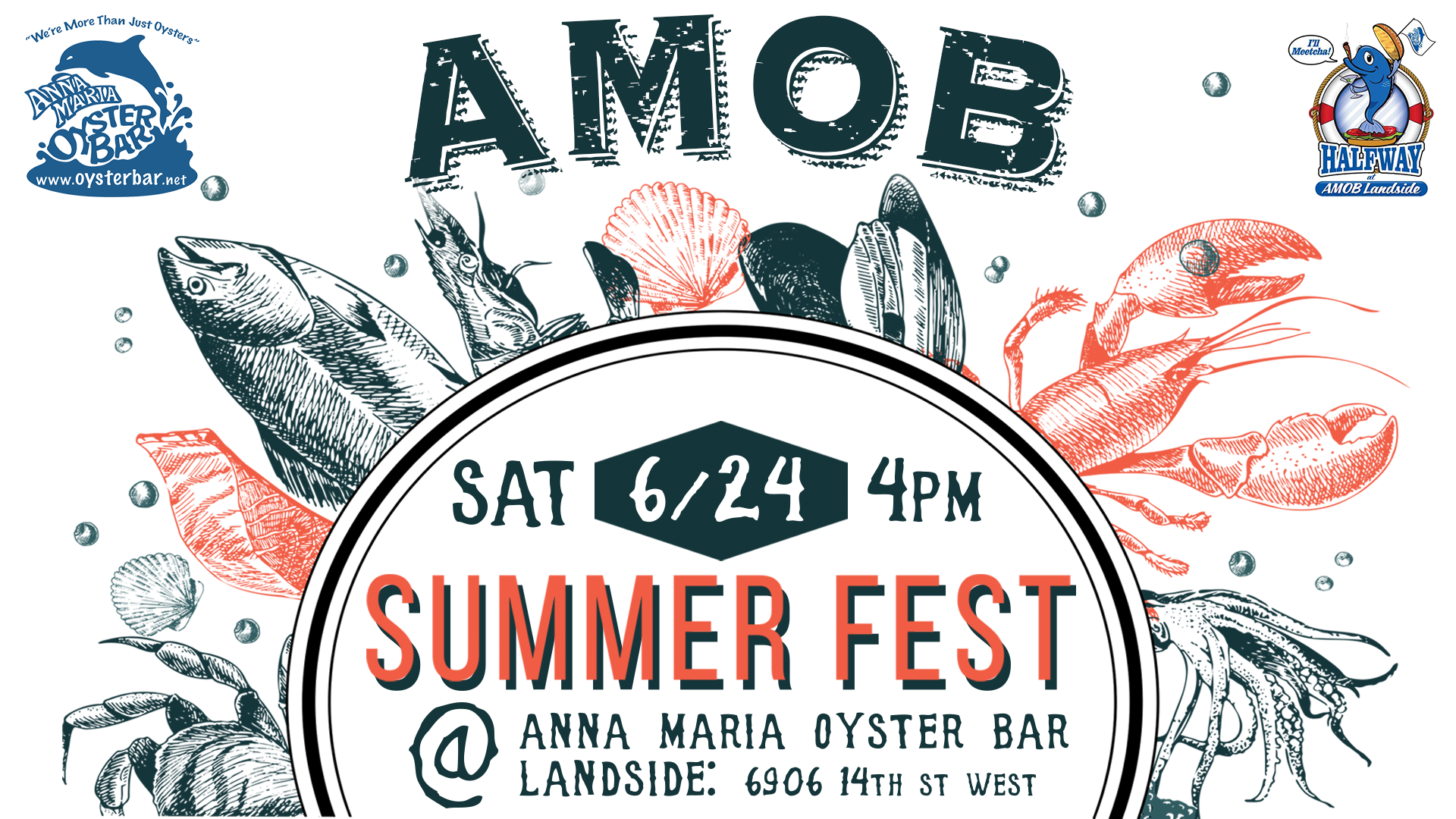 AMOB Summer Fest
By now, you probably know that AMOB Summer Fest was RESCHEDULED to July 15… the Backyard was an absolute swamp last weekend!
We look forward to welcoming you on Saturday, July 15 to a fun time filled with great food, live music from Trevor Bystrom and The Curious Bedfellows, crafts and more. AMOB favorites including sliders, fish tacos, Margaritas, will be available in a street-fair style atmosphere. We'll even have some yummy PopCraft Pops, gourmet popsicles handcrafted right here in Sarasota!
Bring the whole family for live music, fun outdoor games, arts & crafts vendors including Brushes & Bouquets by Mike Parrott and a gyotaku (Japanese fish printing) demonstration; an interactive children's activity from environmental education organization, Nature's Academy… and more!
Pre-purchase your food & beverage tickets in advance and save. Click here to buy now!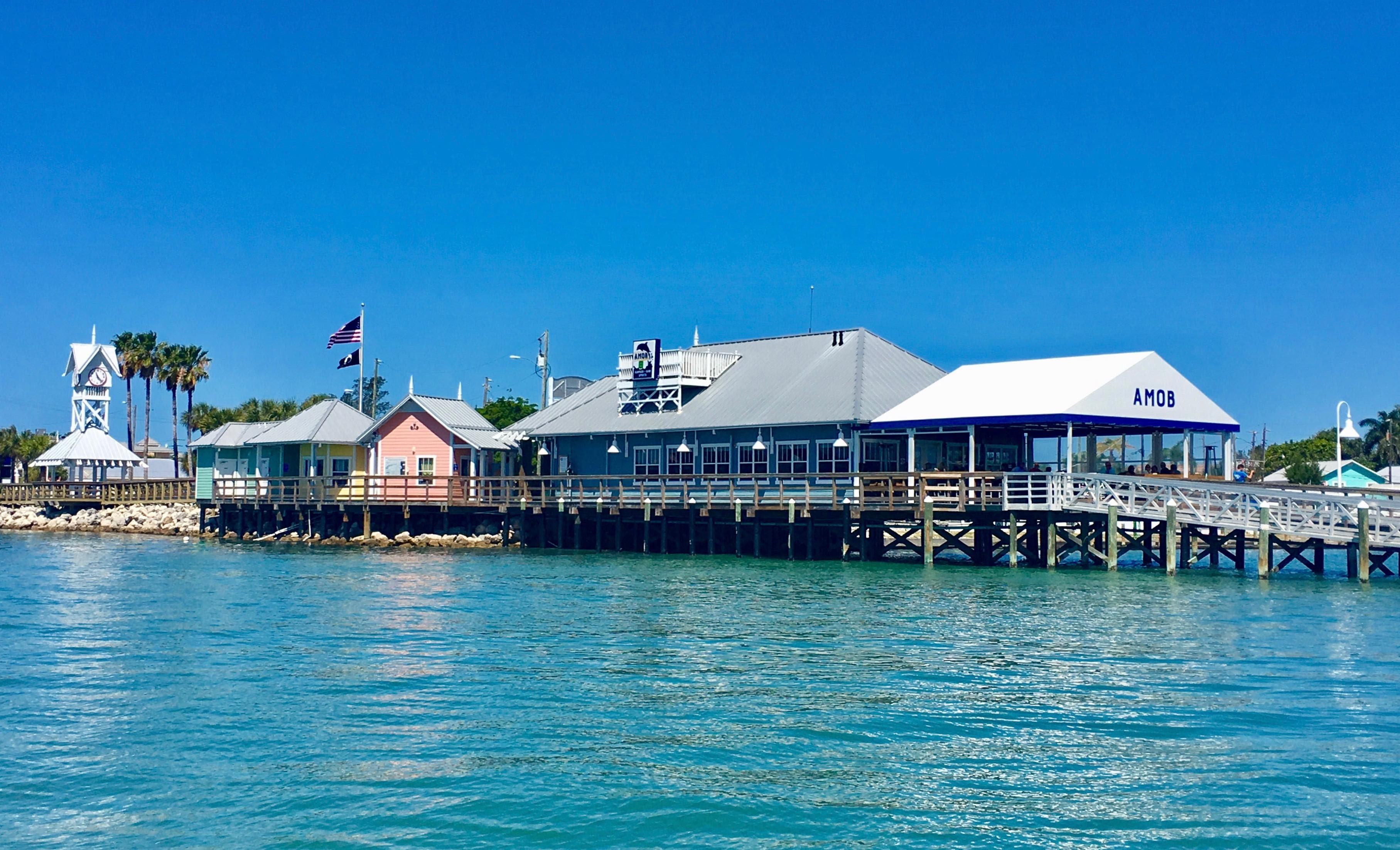 4th of July

 Weekend at AMOB on the Pier
Whether you choose to come by land or by sea, this weekend is a great time to visit our Pier location for fabulous waterfront dining!
In case you haven't visited the Pier, we consider this our "Mini Bar," an abbreviated version of the Anna Maria Oyster Bars. It's fast-casual, so you order at the counter, help yourself to condiments, grab your beverage from the bar, and our friendly staff will deliver your food with a smile!
At this location, we offer breakfast, lunch and dinner along with a full bar……. and on Saturdays and Sundays from 11am-2pm, we also serve a special BRUNCH menu!Click here to view Brunch menu.
The "Happiest Hour on the Island" is from 3-6pm daily, when you can take advantage of $4 select liquors, 50¢ off draft beers and house wines….. and best of all, Buy One-Get One Half Off ALL appetizers and oysters!
Think parking is a challenge on the Island? Think again! Find a parking spot near Coquina Beach and simply call us at 941-778-PIER (2662). We'll send our golf cart shuttle to your parking spot to retrieve you!
Thank you for choosing to dine & celebrate with us at the Anna Maria Oyster Bar………….. Cheers!
………..Elvis has left the building